My weekend was super low-key: night in Friday, dinner and movie night with friends Saturday, then cleaning and packing on Sunday. Work-wise I've been super busy, so any time to unwind on the weekend is exactly what I'll do!
Also, I finally set up my XBOX that I got for Christmas. I got it primarily to work out with (yay for Kinect!) and to try and cut down on my cable/movie/hulu cost. We'll see how that works out, because saving money would be a huge plus for me!
Tried the demo run of Zumba Core Fitness the other day and it is AWESOME. I had debated on buying an XBOX just to work out with but again, the idea of cost came in -- spend some money on a system that I can watch movies on, play games on, work out with, and enjoy or spend $30 and more a month for a gym. XBOX won out on this one.
Hopefully I'll be able to post some review some work out Kinect games once I try them out. I'm pumped to work out on the new games!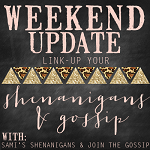 Do you have an XBOX to work out with? Do you like it?