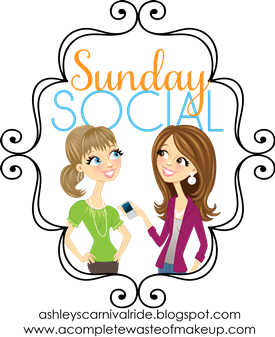 Happy to be linking up today for a Sunday Social! :) Hopefully y'all like these random facts about my blog. I promise I'm working on an about me/get to know me post, it'll be up soon!
1. What is the name of your blog and how did you come up with it??
Wildflower at Heart; I was having issues naming the blog in the beginning, so this name kinda came from a bunch of random things. I love gardening and photographing flowers, so that's where the wildflower came in. One of my friends added how it should sound like 'wild at heart' because I love animals, and the idea just stuck!
2. What do you love the most about blogging??
This is going to sound cheesy, but I love everything about writing and meeting people through my words. I love writing and English, so being able to make people happy with something I have to say makes me the most happy. One of my ultimate dreams is to write a book, and blogging is a perfect avenue for practicing to prepare for the
big
piece.
3. What are your 2 favorite posts you've written?
Huh, this ones hard... I would have to say my little bit on
wallet feng shui
and the
DIY on sharpies with ceramics
!
4. What is something you'd want to tell someone just starting out in blog world?
Schedule yourself. You don't have to write everyday, but have some sort of an idea of what you
want
to write about. I think it works better that way to pace yourself. Also, don't worry about having a set "block" you fit into. Just share what you love!!
5. Biggest blogging learning experience you've had?
Putting myself out there with swaps and link-ups! You're inviting other people to get to know you and (personally) worry about getting something wrong in a swap. I hate disappointing people, so link-ups and swaps make me more conscious of what I would like to see/read!
6. Give us 3 blogs we NEED to be following that you love.
Chris at
Chubbette Tales... Life After Spanx
Kristin at
my life as a teacup
Kaelah at
little chief honeybee.
These people are awesome and you should definitely check them out!!
Hope you have a lovely Sunday!