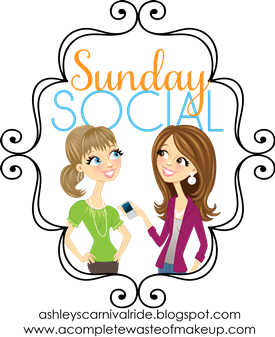 I am a self-proclaimed food enthusiast, and the scale in my bathroom completely agrees with that. Anyways, I'm here to spread the Sunday Social joy! :)
1. If you could only eat one thing for the rest of your life, what would it be?
My dad's tamales! We help him create them but he does all the hard work, so their "his". But seriously, y'all have not had good Mexican food until you've had these tamales. Everyone who's ever tried them loves them!
yumm!!
2. What's your guilty pleasure/comfort food?
Ice cream/fro-yo. It's my ultimate favorite and can always cheer me up or make me feel more comfortable!
3. What's the weirdest/craziest thing you've ever eaten?
Alligator at the Oklahoma State Fair. Yeah, it was soooo chewy! Ugh.
4. What foods do you avoid at all costs?
Is it sad that this is a hard question for me? Ummm... I would have to say any Hamburder Helper type stuff. I think it's the mix of bad texture and odd flavors that I really hate. Blehhhh!
5. What meal reminds you of your childhood?
Really, anything my dad makes. He is one of the best cooks I know and even when he just throws stuff together, it will always come out amazing. I wish I knew what his secret was!
homemade apple pie filling!
6. Share one of your favorite recipes and the story behind it.
Let's go for something easy! These are some brownies that I made for a small get-together with friends over the holidays. They were a hit! It's a recipe from Weight Watchers, so it's pretty healthy for you, too! Good for me since I cannot resist sweets. :)
Cream Cheese Swirl Brownies
3/4 cup all-purpose flour
3/4 cup sugar
1/4 cup unsweetened cocoa
1/2 tsp. baking powder
3 tsp. canola oil
2 Tbsp water
2 large egg whites
2 oz. light cream cheese, softened (about 3 1/2 tbsp.)
2 Tbsp. sugar
1/4 tsp. vanilla extract
Preheat oven to 350 F. Coat an 8-inch square pan with cooking spray. Combine the flour, 3/4 cups sugar, cocoa, and baking powder in a medium-size bowl; mix well. Add canola oil, water, and egg whites; mix just until dry ingredients are moistened. Spoon and spread batter evenly into prepared pan.
Combine cream cheese, remaining sugar, and vanilla in a small bowl; blend well. Drop small spoonfuls of cream cheese mixture over brownie batter, swirl gently with knife to create a decorative patter. Bake until toothpick inserted in center comes out clean, about 20 minutes. Cut into 16 bars.
Hope you have a great Sunday!